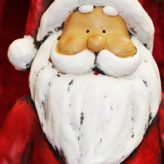 After a decade, Santa's secret is out. And no one is complaining. In fact, he's intrigued enough people that earlier stories were shared quickly by over 40 million viewers on social media. Hearing this example during the holiday season of Love Lived Large renews a person's faith in the kindness of mankind.
As originally reported by Steve Hartman's On the Road (CBS, 12-19-14), a wealthy businessman from Kansas City has anonymously reprised his role as "Secret Santa" each year for the past decade. He has brought joy to unsuspecting recipients in the form of $100 bills. And it's not just a handful of startled beneficiaries. Would you believe a thousand such bills are typically handed out each year by this generous man? For those of you mathematically challenged, that's $100,000.
Dressed in a red Santa outfit with red cap, this rather large man makes the rounds among surprised recipients, often while they're shopping in local stores. Sometimes, Secret Santa has enlisted the help of local police officers. At a time when "Blue" has been beset with negative news, imagine the joy it also brings to their hearts as they are able to stop a motorist and hand out a $100 bill instead of a traffic ticket. Some even worried that their body cams would get crushed by the exuberant hugs received in return.
Secret Santa is driven by a belief that kindness is the bridge between all people. That's worth repeating: kindness is the bridge between all people. So, how does he choose those who will receive the $100 gifts? He says he just goes by a hunch about those that are most in need. As it turns out, many of the recipients have told him that their children would not have received Christmas presents if not for his generosity.
Indeed, we can all be thankful for this real Santa who is no longer a secret—who sets an example for all of us about Love Lived Large. We are anxious to hear news again this year that he is making the rounds!
Merry Christmas!
Read More