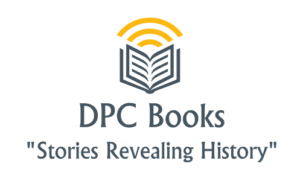 Follow D. P. Cornelius and DPC Books at:
DaVinci's Disciples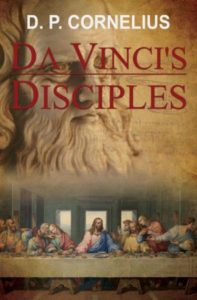 Will Leonardo da Vinci ever allow their paintbrushes to touch the famed wall? Apprentice Dom dreams of adding to the Last Supper, if only fellow apprentice Romolo would get out of his way. But instead, Leonardo wants Dom to build and test his inventions. Alas, from diving suits to gliders, success is hard to come by. All are disappointed—from Leonardo to young housekeeper Fiorella.
Dom becomes key researcher of the lives of Jesus' disciples, as well as keeper of Leonardo's many drawings. But when some military drawings go missing—feared sold to French enemies—Dom becomes a suspect.
Competition, sabotage, and betrayal take center stage as the apprentices' dreams are shattered. If only they could develop persistence and forgiveness, and realize they're more than just disciples of Leonardo. Could it be their lives would become eerily similar to the very disciples they're so anxious to paint?
About the Author
D. P. Cornelius' second Christian novel, following The Baker's Daughter, illuminates the lives of Leonardo da Vinci as well as Jesus' disciples. Doug is a Twin Cities, Minnesota native, retired from careers at Target, American Express, and 3M. When not writing, he enjoys time with his wife of 41 years, two children, three grandchildren, complacent old dog, and frolicsome new cat Selah. List price $12.95.
Available in Paperback and Nook formats from Barnes and Noble.
The Baker's Daughter:
Braving Evil in WW II Berlin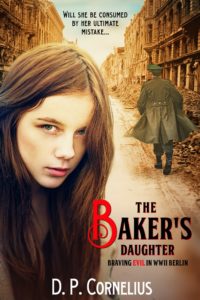 Chaos reigns over WW II Berlin, and for many, confronting evil may cost them everything. For the Mittendorf family, evil lurks in the very bakery they are trying to save.
Seventeen-year-old Liddy wants to go away to a quiet college. But, surrendering to her father's pleas, she comes back to the bakery—only to face new customer Keppler, a Nazi officer. Boyfriend Marek, a young man with a secretive past, labors just a few paces away in the kitchen, but his avoidance of Keppler is puzzling.
Liddy's father Klaus secures a night job as a prison guard where Christian martyr Dietrich Bonhoeffer is held. Klaus smuggles out the pastor's letters, sharing their spiritual wisdom, much to wife Renate's delight.
Tensions rise as Keppler becomes a regular customer at the bakery. An exacting, meticulous man, he establishes a tenuous relationship with Liddy's young brother, Willy, surprisingly helping him with his cherished piano playing.
Liddy becomes enmeshed in the world of other Christian notables braving evil. Life is fraught with danger—from air raids, to the Hitler Youth, to spies intent on betrayal.
When Liddy makes a critical mistake foreboding to a loved one, she is rocked to the core. Lacking the discipline that Bonhoeffer had espoused, Liddy becomes so depressed that her father must convince her anew of God's unconditional love.
Liddy rebounds to courageously confront Keppler, while also trying to re-connect the officer with his long-lost God. He relishes the battle, taunting Liddy until she faces a decision that puts her own faith on the line.
Braving evil is indeed daunting. One night, when Willy's well-being is dependent on Keppler, unconditional love comes into play once again. But with times so treacherous, is there any way the bakery can survive? List Price 14.95.
Available in Paperback and Kindle formats from Amazon and Paperback from Barnes and Noble.
Good News – I Failed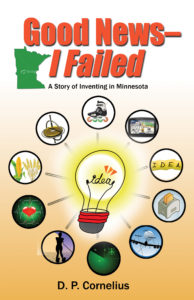 Dreams – sometimes they change the world, sometimes they just plain fall through. Over the course of a weekend at grandpa's farm near Luverne, Minnesota, 14-year-old Josh Lindstrom gets in touch with his dreams as they spend their time inventing, and grandpa relates the stories of some of the great Minnesota inventors. Success, however, does not come easily. So, is there anything to be learned from the inventors that preceded them, especially those of the aptly named Greatest Generation? Josh and his grandpa discover together that when it comes to dreams of inventing, failure is okay. As Minnesota inventor Earl Bakken had said, "Failure is closer to success than inaction." Some surprises are revealed along the way, and the unexpected ending soars with a heartfelt and compelling, once-in-a-lifetime, encounter. An appendix featuring profiles of the Minnesota 80 serves as a resource of the state's key inventors.
Available in Paperback and Kindle formats from Amazon and Paperback from Barnes and Noble.